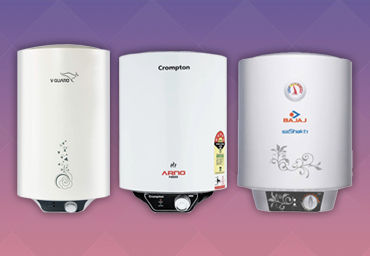 It's that time of the year when warm water becomes essential for drinking, washing, and other activities. Because of this requirement, users browse the market for an efficient and power water heater that will facilitate their water heating needs. These products last you for many years, and nowadays, the protection standards of the water heaters eliminate any overheating or excess power consumption worries. Here are the best water heaters you can buy this winter at a price of less than Rs 8,000.
1. Crompton Arno Neo ASWH-3015
Value for money
Crompton Arno Neo gets a sturdy body with power indicator and PUF insulation for safe and quick heating. It features advanced 3 level safety and powerful heating element that makes it suitable for high-rise buildings and bathrooms. The best thing about this geyser is the heating will be at the same level even while using hard water. It gets 5-star rating from BEE that certifies the geyser and its power efficiency. Speaking of which, it consumes 2000W of power for each usage. Crompton Arno Neo is priced at Rs 4,949 in India.
2. V-Guard Victo 15 litres
Premium
V-Guard Victo is another choice that you can look at for this price. This geyser is rated 4 stars from BEE, which means it delivers high power efficiency. It features a temperature control knob next to the main and heating light indicator. The inner tank is made of high-quality steel, along with glass lined anti-corrosive coating for extra durability. It offers four layered safety system that comprises of hi-tech thermostat, thermal cut-out to avoid overheating, and multi-functional valve to control the water pressure. You get support for 15-litre water storage with this model. V-Guard Victo is available in the market for Rs 6,734.
3. Crompton Amica
User recommended
Amica from Crompton features copper heating element along with polymer-coated tank that not only heats up the water fast. But also makes it corrosion resistant in high temperature. The geyser produces 2000W of power and requires up to 240 volts of operating power. It has smart energy management with advanced three level safety. The geyser has indicator lights to let you know the status of heating. You can manually switch the heating temperature using the knob and there is a preset thermal cutout feature built into it as well. This size of geyser is suitable for high-rise buildings.
4. Lifelong Flash
Budget pick
If you want something on budget, the Lifelong Flash is an ideal choice worth considering. The upper body is made of thermoplastic that ensures heating takes place in safe manner. And with the stainless-steel tank inside, you can stop worrying about corrosion. The use of thick PUF materials ensure heating does not lose its effect in quick time that improves energy efficiency. It has neon indicator that shows the heating status and when it is ready to be used. The cut-out feature makes sure excess water is not stored inside the tank.
5. Hindware Atlantic Convenio
Feature packed
The Convenio is different from regular geysers since this is an instant water heater. It accommodates water capacity up to 3 litres and supports pressure up to 6.5 Bars. The inner tank is made of corrosion-resistant stainless steel with ABS material finishing. The geyser comes equipped with i-Thermostat feature that prevents wastage of excess energy. The overall dimensions of the Convenio make it easy to fit in any corner of bathroom or kitchen.
Other options to consider
Faber
Feature packed
Candes Perfecto Metal
Value for money
AO Smith HSE-VAS-X-025 Geyser
Premium
V-Guard Victo Plus
Best in class
Bajaj New Shakti Storage
Popular
Usha Misty 15 LTR
Also consider
Havells Instanio
Budget pick